Adobe Dick
Add here
Episode information
Show
Season
Episode number

129

Original airdate

December 17, 1964

Animated by
Written by
"Adobe Dick" is the fourteenth episode of the fifth season of The Flintstones. It first aired on December 17, 1964.
Plot
A Water Buffalo fishing trip turns exciting when Fred and Barney are swallowed by the feared whalesaurus Adobe Dick. They escape by tickling the beast until it laughs itself to sleep, and Barney photographs Fred standing next to it. But when they use the picture to prove their fish story, they discover that Barney has taken a great shot of his own finger.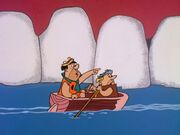 Ad blocker interference detected!
Wikia is a free-to-use site that makes money from advertising. We have a modified experience for viewers using ad blockers

Wikia is not accessible if you've made further modifications. Remove the custom ad blocker rule(s) and the page will load as expected.