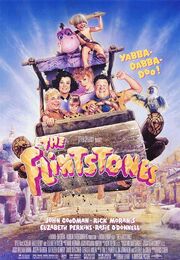 The Flintstones
is a 1994 American comedy film and the live-action adaption of the comedy cartoon series, The Flintstones. The film stars John Goodman, Rick Moranis, Elizabeth Perkins, Rosie O'Donnell, and Halle Berry. The B-52'S performed a different version of the theme song.
Plot
The Rubbles adopt a baby named Bamm-Bamm, as Fred gave them the money as Barney repairs Fred by switching his test for becoming a executive as Fred gets to be executive as Fred doesn't know that chief executive, Cliff Vandercave is going to blame Fred for fleeing with the building's fortune.
Cast
Reception
The Flintstones received mostly negative reviews. Rotten Tomatoes gave the film a 3.7 out of 10 from 42 reviews. Metacritic gave the film a 38 out of 100, indicating "generally unfavorable reviews", based on 15 reviews. Famous film critics Roger Ebert and Gene Siskel, on their show Siskel and Ebert, both gave the film two thumbs down.

The film's plot was criticized for containing similarities to an adult film, and for being very confusing. The visuals, however, were praised for remaining faithful to the original cartoon series. John Goodman, who played Fred Flintstone, was praised for his acting.

Rosie O'Donnell, the actress for Betty Rubble, was widely criticized for her acting and received a Golden Raspberry for Worst Supporting Actress. Elizabeth Taylor, who played Wilma's mother Mrs. Pearl Slaghoople, was also nominated for Worst Supporting Actress, but lost to O'Donnell. The film was also nominated for Worst Remake or Sequel, but lost to a different film.

By contrast, the film received four Saturn Awards for Best Fantasy Film, Best Costume Design, and Best Supporting Actress, with O'Donnell and Halle Berry winning.

Joseph Barbera, the co-founder of Hanna-Barbera, was impressed with the film's visuals, but wasn't impressed with the plot.
Ad blocker interference detected!
Wikia is a free-to-use site that makes money from advertising. We have a modified experience for viewers using ad blockers

Wikia is not accessible if you've made further modifications. Remove the custom ad blocker rule(s) and the page will load as expected.